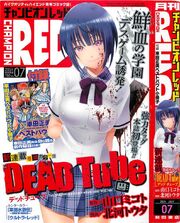 DEAD Tube (デッドチューブ Dead Tube) is a manga written by Mikoto Yamaguchi and illustrated by Touta Kitakawa. It is currently being published by Akita Shoten and distributed by Champion RED.
Synopsis 
Edit
"Dead tube is a game where contestants enter with the promise with vasts amount of money for uploading entertaining videos but there's a catch. The person or people whose video(s) get the lowest amount of views has to pay for the expenses and the crimes of all the other participants."
The series protagonist, film club student Tomohiro Machiya is first introduced to the website by Mai Mashiro, when she ropes him into filming her over two days, culminating in the murder of a man she lured into an abandoned factory with offers of sex. Machiya later films Mashiro as she faces off against fellow amatuer snuff filmer Oushima Sanagi, and brutally murders her and her film crew.
After their second snuff film, Mai invites Machiya to view the film, and introduces him to the rules of Dead Tube. Users of Dead Tube submit snuff films consisting of brutal murders and rapes and compete for the most views. Dead Tube appears to provide funding for the users films. The one with the highest views will be rewarded with 100,000 yen. However, the user with the lowest views will framed for ALL crimes in the filming of ALL videos on Dead Tube, at which point they are arrested, and, even if they are killed, the costs of making ALL films on Dead Tube will placed on their family.
Dead Tube appears to be owned by a wealthy and politically influential individual or organization, as they are able to clean up crime scenes and divert police and media attention. Dead Tube also periodically designates "sacrifices"- non-uses who are to be killed in a film, with the perpetrator presumably receiving some kind of bonus.
Manga - Akita Shoten / Champion RED
External Links
Edit